Lotte Armoricaine
There are dozens of subtle and not so subtle variations on this classic Breton fish dish - the name, depending on which story you believe is derived from the northern coast of Brittany, Cote d'Armoricaine or Ar Morig which means "the little sea" in Breton. This is the story of how it became the first fish recipe learned from other French, or rather Breton, fishermen with whom I made friends with over those periods of time when they were stormbound in Newlyn during severe winter weather.
As a then young crewman sailing on the (new to Newlyn) ex-French trawler, Keriolet from Lorient we and the boat were the subject of much interest from...
some of those visiting trawlers that moored alongside us after running for Newlyn in bad weather...
very often the Breton boats arrived a full 24 hours after the entire Newlyn fleet including the big beam trawlers had headed back to port - in this instance, as any Newlyner will have spotted, the interest of one Billy Stevenson had been aroused - seen here at the end of the North quay in his trusty Triumph Dolomite no doubt taking photographs of the Kristel Vihan as she rolls her way to the gaps in a particularly ferocious southerly storm.
My first visit to a Breton port was aboard the Gallilean with Mervyn Mountjoy where, co-incidentally she was built, back in 1958 - in the picture above you can see her against the quay in St Guenole sporting 'new', as Mervyn would have it, winch, the boat was built for skipper Alain Bougeon and at the time and named Bajymar
and it was from this Alain that Mervyn passed on the recipe for Lotte Armoricane
...
Alain, retired at 55, as French fishermen must do but often helped out with the odd trip on one of St Guenole's sardine boats seen landing here to the market late in the evening evening - while we were in the port for a week (which included myself and Roger Coutsubus paying a visit to Douarnenez for the Mardi Gras) Mervyn met and got to know his boats previous skipper and was also introduced to another Alain, Alain Jegou...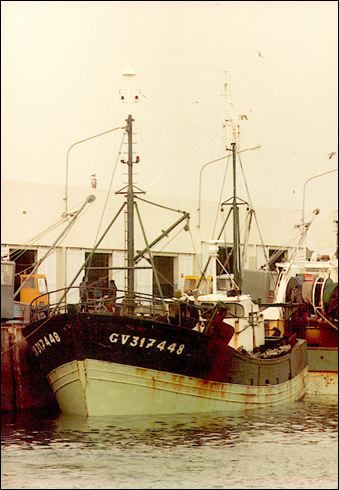 skipper and owner of the Riquita seen here landing at St Guenole later that same week with a full 14 day trip of langoustine on board - Alain's son Bernard Jegou is Editor of Le Marin...
Ingredients for two:
Monkfish - be guided by people's appetites but generally be generous with monk fillets which if given whole need to be taken off the bone - that's the easy bit as there is only one central bone! - the hard bit is removing the sheath-like membrane from around much of the tail - if you have a decent fish-knife then use the same technique as you would to skin a flatfish starting with a little of the sinew and the knife pressed firmly flat on your board and slice away from your fingers! If in doubt our good friend Duncan from the Fish Shop shows us how!
Slice the monk into big bite-sized chunks, roll in well seasoned flour and set aside.
To cook:
In a thick frying pan, heat olive oil with a good knob (think Floyd) of butter and when the butter crackles, brown the fish evenly - then the fun bit -
add a small shot of brandy and set light to it - as in flambé - once the flames have died down stop
and reserve the fish on the side, covered with foil.
In the same pan, add an onion, at least 2 cloves of garlic, finely sliced ​​and brown then sprinkle with flour, gently adding a glass of St Emillion - Mervyn told us they insisted it had to be St Emillion, but if you haven't any, any dry white will do!
Add the tomato puree, and the chopped mushrooms
to the fish to the sauce and cook until soft, at least 10 minutes then add back the fish to heat right through.
Often eaten with rice or your choice of favourite vegetables - that's your lotte!