The Marine Management Organisation's (MMO) new digital catch recording app now has more than 1300 registered users in the Under 10 metre fishing fleet.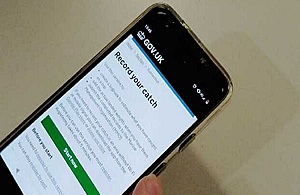 The new digital catch recording app, developed by the Marine Management Organisation (MMO), with involvement from the fishing community, now has more than 1300 registered users in the Under 10 metre fishing fleet.
Thousands of catch records have been made and submitted since its launch, with numbers continuing to grow.
It is the first time that skippers in the small scale fleet have had the opportunity to record their catch in this way. Accurate records of what fish is taken out of the sea are vital for better planning of future fish quotas and better representing fishing interests in key decision making. The app is also designed to help individual fishers keep a track of their recorded catches.
Tom McCormack, CEO of the MMO, said:
Our aim is to get the information everyone needs about this much valued sector and to help the fishing industry continue to prosper and be sustainable for the future.
We are pleased that so many fishers have registered and are digitally recording their catches – with numbers growing everyday. We will continue to support, listen and learn.
Throughout the app's development, improvements have been made as a result of feedback received from the fishing community. These include improving the process such as removing double reporting, removing the need for additional transport documents, a slower roll-out, not requiring fishers to complete a catch record if they are only emptying a store pot; and clarifications on safety and enforcement aspects.
A number of further enhancements are also underway to the app itself, including increasing the number of ports available within the app and the ability to record weights of fish lower than 1kg.
Over 20 drop-in sessions, as well as over 25 meetings with smaller groups, have already been held throughout England to help support those using the app, answer questions and receive feedback. Comments from users of the app have included that they understand the need for more accurate recording, that it gets easier the more it is used, and that most skippers are using it without issue.
As with any change, there will be further time for people to prepare and adjust, and the telephone support, drop-in sessions and other help will continue. The MMO is committed to continuing to listen to and support the fishing community in adapting to this new requirement, and making changes where necessary.
Online support is available through full GOV.UK guidance, a blog post, which answers frequently asked questions and videos on how to register for the app and how to record your catch.
There is also a dedicated helpline and assistance available via an automated service that allows catch records to be provided over the phone: 0300 0203 788.