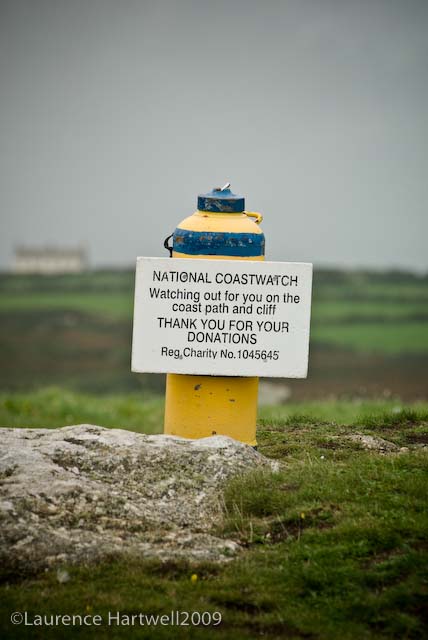 Two decades of saving lives at sea has been celebrated at RNAS Culdrose as the National Coastwatch Institution (NCI) marked its 20th anniversary.
The lunch was organised by Peter Clements, station manager of NCI Bass Point on the Lizard – the first station to be established – and his team.
Some 40 past and present members of the NCI, including station managers from all over Cornwall, led by the NCI chairman Alan Richards, were joined by the chairman of Cornwall Council John Wood, members of HM Coastguard Falmouth, HM Coastguard cliff rescue teams from Mullion and Porthoustock, the UK Border Force and the Cadgwith Fishing Fleet, together with their wives and partners.
Daphne Skinnard, Deputy Lieutenant of Cornwall, was the guest of honour. The celebration began with a service of thanksgiving in the Naval Chapel of Peter and Paul, led by the Rev Brian Swabey and the Rev Tim Wilkinson RN. Lunch was taken in the wardroom of HMS Seahawk. At the lunch, long service certificates were awarded to several NCI members, including Jon Gifford, honorary president of the NCI. Robbie Wilson from Ruan Minor was awarded the first ever 20-year certificate, being the only original member left from those who started at Bass Point in 1994.
The HM Coastguard lookout at Bass Point, along with a number of other HM Coastguard lookouts, closed in 1992 to allow resources to be concentrated in 19 maritime rescue and coordination centres. This action caused grave concern, because there was no longer a visual watch around the coast to look after small vessels. In 1994 a tragedy occurred when a fishing boat from Cadgwith Cove, with two fishermen on board, foundered off Carrick Luz, in Kennack Bay. There were no witnesses and the overdue vessel was found only after a search discovered oil on the surface of the sea. There was a strong local feeling that something needed to be done immediately. Volunteers banded together, raised money and reopened the Bass Point Lookout in December 1994.
From this beginning, the NCI was formed and other lookouts were opened. There are now 50 NCI stations in operation around the coast of England and Wales, 13 of which are in Cornwall, manned by more than 2,000 trained volunteer watchkeepers. All this effort is funded wholly by donations from members of the public.