Just a fraction of much-trumpeted Government funding for flood-hit farmers and fishermen has been handed out six months after storms battered the country.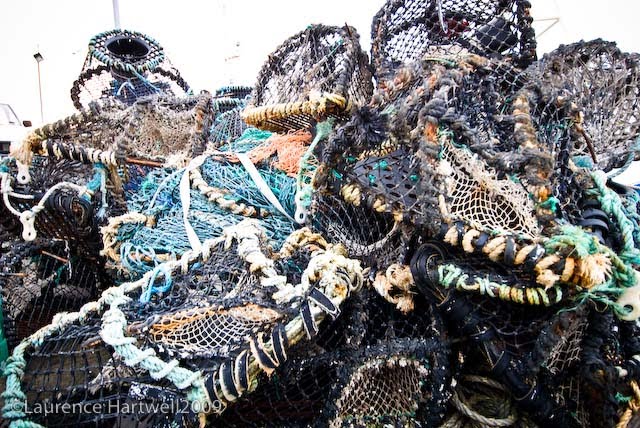 Storm damaged pots on the quay in Newlyn
MPs today heard how a Government grant scheme to replace storm-damaged equipment including lobster nets and crab pots had handed out just £2,320. And a separate £10 million pot to restore agricultural land has only paid out £530,000.
Labour claimed the figures, which were revealed in Parliament, show that David Cameron's "money is no object" pledge at the height of the winter floods rings hollow. Somerset, Devon and Cornwall were the worst hit areas earlier this year, with many of the region's farmers and fishermen facing ruin.
Environment Minister Dan Rogerson argued "many applications are currently being processed", suggesting significantly more money would be paid in the coming months.
But Labour countered this misses the point – arguing thousands of pounds remain tied up in Government bureaucracy.
Maria Eagle, Labour's Shadow Environment Secretary, said: "The Tory-led Government's response to the floods was slow and chaotic. Despite David Cameron's declaration that 'money is no object' the Government failed to respond effectively to the floods.
ADVERTISEMENT "It is inexcusable that it took so long to get the pumps, boats and sandbags to our communities and only a fraction of the funding the Government allege is available has actually been paid out.
"These latest figures show that this much-needed government support is not actually getting into the hands of the people who need it."
During Department for the Environment, Food and Rural Affairs (Defra) Questions, Labour MP Barry Gardiner said: "In February, the Prime Minister promised that 'money is no object' in the Government's response to the winter floods.
"Four months on, only £530,000 has been paid to farmers out of the supposed £10 million available in the farming recovery fund, and only £2,320 has been paid to fishermen out of the supposed £74,000 approved under the support for fishermen fund. Why is that much-needed support not getting to the people it is supposed to be helping?"
In response, Mr Rogerson, also Liberal Democrat MP for North Cornwall, said: "There is nothing 'supposed' about those totals, and the money is there for people to bid for – the key question is encouraging people to do so.
"People should apply for that money, and we have simplified the system.
"Many applications are currently being processed, and I encourage all people eligible for those funds – whether farming, fishing or the other funds I have set out – to apply and make use of that money."
A written parliamentary answer published this week shows the fisherman's fund has received 110 applications totalling £349,218.
Of these, 33 projects have been approved worth £74,047.
A Defra spokesman said the £10 million scheme has been made more simple for farmers, including cutting back the amount of evidence need to prove claims and scrapping the need to have three quotes to justify a hand-out.
A Defra spokesman said: "Farmers can apply for up to £35,000 of funding until the 27 June to get their land back into production. They then have until January 2015 to undertake the work.
"We've simplified how farmers can apply, among the improvements we've removed the need for three quotes by introducing standard costs for commonly requested items such as fencing and grass seed.
"If anyone needs help with the process or has any questions can call our dedicated Farming Recovery Fund helpline on 0300 060 2700."
She added: "Storm damage claims are a top priority for Marine Management Organisation in order to get this much needed support out to fisherman as quickly as possible. Some 113 applications worth £365,000 have been received so far and we will send out money to these fisherman once they have purchased new pots. We expect the volume of applications to continue to increase in the coming weeks."
Read more: http://www.westernmorningnews.co.uk/Labour-scorns-delay-funding-flood-hit-farmers/story-21227376-detail/story.html#ixzz34Ve7Xby5