Securing the future of Guernsey's fishing industry is the aim of a new scheme launched by the States.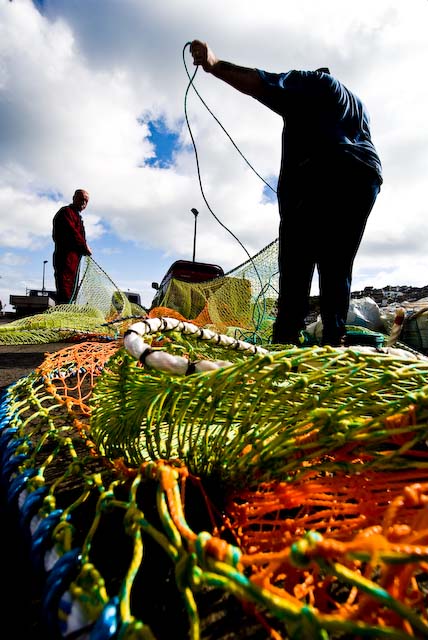 Fisheries Officer, Chris Morris, said the apprenticeship scheme for under-25s will be a cheap way of helping the industry. He said it was being launched to train the next generation of fishermen. Each apprentice will be given a fishing licence to operate a small boat for up to three years before having to invest in their own full licence.
The licence applies to vessels under 10 metres in length and within the 12 nautical mile limit.
Guernsey's Commerce and Employment department, which is supporting the scheme, says the licence will enable the trainee fishermen to establish a business without the immediate need to buy a vessel beforehand.
Continue reading the main story " Start Quote
Dougal Lane It is a difficult way to earn a living, it is very hard work but incredibly satisfying"
Dougal Lane President of the Fisherman's Association Mr Morris said to gain a place on the scheme, applicants would be expected to show commitment to operating a vessel and enough skill and training to enable them to launch safely.
Dougal Lane, President of the Guernsey Fisherman's Association, said it was a very rewarding industry to work in. "If the kids start learning the job young, when they finish school they are ready to try out on a boat and a percentage will enjoy it. "It is a great way to earn a living, it is a difficult way to earn a living, it is very hard work but incredibly satisfying."
Fisherman Frank Hallam said it was a very difficult industry to make money in and, even with the free licence, they would struggle.
He said: "If they can get over the first six months and earn some money they might do OK but it is not a regular wage. It is going to be hard for them." Councillor David Cocksedge from the Sark Chief Pleas Sea Fisheries Committee said there were already young people interested in the scheme.
"The idea of a new entrants scheme has always been a key priority for Sark, Alderney and Guernsey and on behalf of the Bailiwick Fisheries Management Commission I am pleased that we have managed to get this scheme up and running.
"We already have young people interested in the scheme and are hopeful that the scheme will allow them to pursue a career in fishing."
Full story courtesy of the BBC in Guernsey.