A pop-up restaurant in London is serving gourmet fish from gorgeous tins in designer surroundings. Are you a fan of the can – and would you pay someone to open it for you?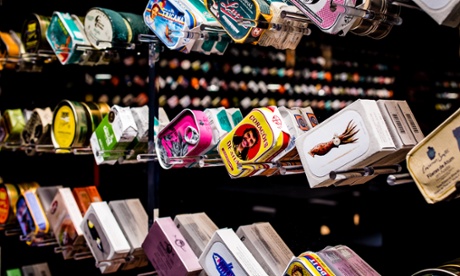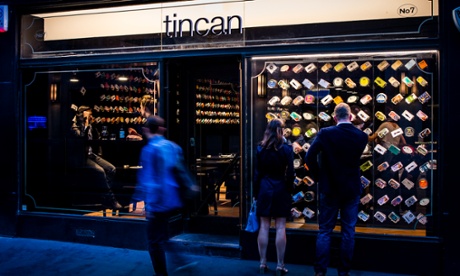 Every element of the project has been devised by Al_A, an architect's firm of which he is a director, from the lighting and furniture to the contents of the menu. The idea came after they discovered a tiny restaurant in Lisbon serving only tinned seafood. "We've combined two things we're passionate about: food and design," he says.
Tincan sells artisan fish that you won't find in UK supermarkets – the "best tinned fish in the world", they say. Canned delicacies include Portugese mackerel fillets in olive oil (£7), Icelandic smoked cod livers (£10) and Galician urchin caviar (£18), offered with simple accompaniments – bread, rocket salad, lemon, chilli, shallots, olive oil and parsley.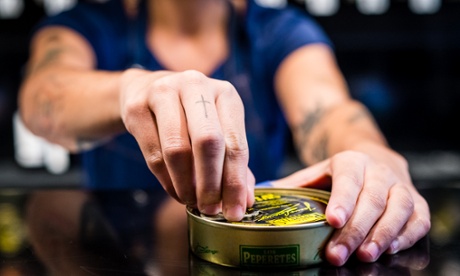 Having visited some of the small, family businesses that produce these products, the way Arrocet sees it, "the chef is on the other side of the tin. People underestimate how much work goes into them. They select the cuts very carefully and the fish are caught using traditional methods."
A restaurant dedicated to tinned fish may seem eccentric, but, despite what Arrocet believes, we are not complete strangers to high-end – and beautifully designed – canned products in this country. Ortiz white tuna and anchovy fillets (making Jamie Oliver's list of store-cupboard essentials), which are sustainably caught and come in yellow ochre cans with an red sailboat on the lid, are available in UK supermarkets for around £4 a tin.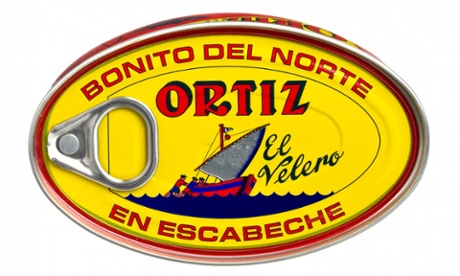 No additives are necessary to preserve canned food. You put the food a tin, bung in some sauce, water or oil, seal and heat to kill off the germs inside. "I tell my students that heat is a necessary evil in preserving foods," says Malcolm Bourne, emeritus professor of food science at Cornell University. "It causes great damage to the colour, flavour and texture."
While canned fish is a different proposition to fresh, its texture suffers much less than that of vegetables. And there is more than one way to tin them, as Nick Howell of the Pilchard Works will tell you. "We use the oldest sardine cannery in the world, in Brittany," he says. In the industrial process, "the fish goes in the tin raw, they add the sauce, close the tin and then sterilise it a bit longer to cook it. Consequently, it tastes a bit like a boiled sardine." His fillets, in contrast, are flash-grilled, "then they go in the tin and they're sterilised for the minimum time – about four minutes". The result is firmer, with a delicate, fresher flavour.
Good Breton sardines can mature in the tin, he adds. "Some of the top restaurants in Paris have them on their menus; it will be a 1998 tin, or a 1992 tin, like a wine." Some of us, on the other hand, are content with basic (sustainably sourced) sardines on toast with a squeeze of lemon.