Newlyn Filmhouse latest news:
Good news for another old fish processing building in Newlyn. This time the planning department for Cornwall Council came good - thanks in part to a large, enthusiastic and well behaved lobby of creative fans lending their support to see the project take one step closer to opening its doors for the first showing early next year.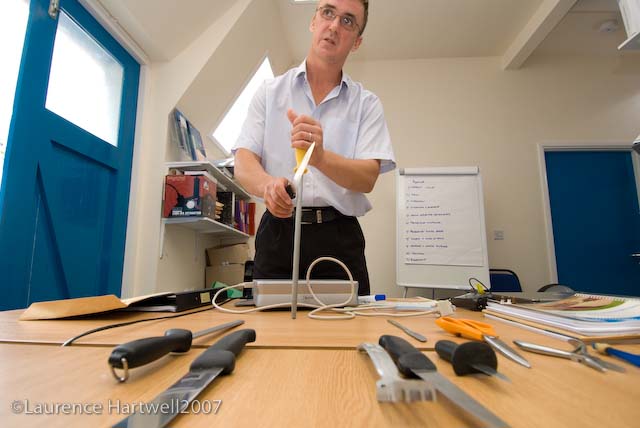 Turners often played host to training events - here, Duncan Lewis from Passionate About Fish gives a fish filleting demonstration.
Turners of Newlyn ceased trading
after several generations of the family traded fish from buildings 'down the Coombe'. Newlyn boasted its own cinema until the late 1960s in the form of the 'Gaiety Cinema' - now Newlyn Meadery. The building only just survived catastrophe when a fire ripped throughout the building thanks to some errant young girls from the village who were spooked one day whilst playing in the roof space using candles in jam jars for lights - the local policeman at the time had no trouble apprehending the girls - their less-than-girl like reputations ensuring that theirs were the first doors to be knocked upon and an admission of guilt procured!
Here is an account of that eventful planning meeting at Truro:
The planning meeting yesterday was very well attended and I think we managed to fill the gallery.
Everyone had to sit through two other matters that went on for some time before they got to us.
It started off with one objector having their 3 minutes followed by a town councillor who was objecting and then Stefanie, our architect had her turn. After this the committee members made their points and asked questions.
It all seemed a little chaotic and negative at first but then it turned and one member started to mention the upside to our plans ( to repeated applause from the gallery which I bet they haven't heard before!) and the whole mood changed and we managed to secure a unanimous in favour vote, with the proviso that a safety audit is carried out to put their minds at rest about the perceived dangers to the hoards of people crossing the road, thankfully the Chair stopped a proposal for a site meeting which would have been yet another delay, on the grounds that we all know the road very well!



The Chair mentioned the fact that he had received a large number of letters of a very civilised nature, and we cannot thank everyone enough who bothered to write in and of course those who gave up a large proportion of their Monday to attend- we really believe that it made a difference and affected the atmosphere of the room as normally the attendees are objectors and it is very rare to get so many supporters.
So now onward and upward and we will commission the safety audit and let you know how we get on.
Thank you again for all your efforts




With very best wishes




Alastair and Suzie